Metal Windbracing
LOWEST COST AND MOST EFFICIENT METHOD TO BRACE WALLS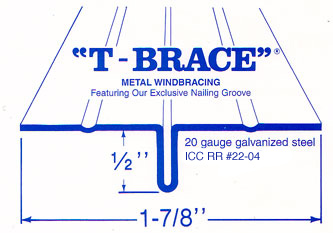 INSTALLATION INSTRUCTIONS:
Use the "T-Brace"(r) as a straight edge to mark studs and plates.
Saw a 1/2" deep kerf along the marked long.
Insert base of "T" in kerf and nail along nailing grooves in face of "T-Brace"(r).
STOCK
NUMBER
DESCRIPTION
PCS.
PER
CTN.
CTN.
WT.
T-9
9'3" long
20
60 lbs.
T-11
11'3-5/8" long
20
70 lbs.
.